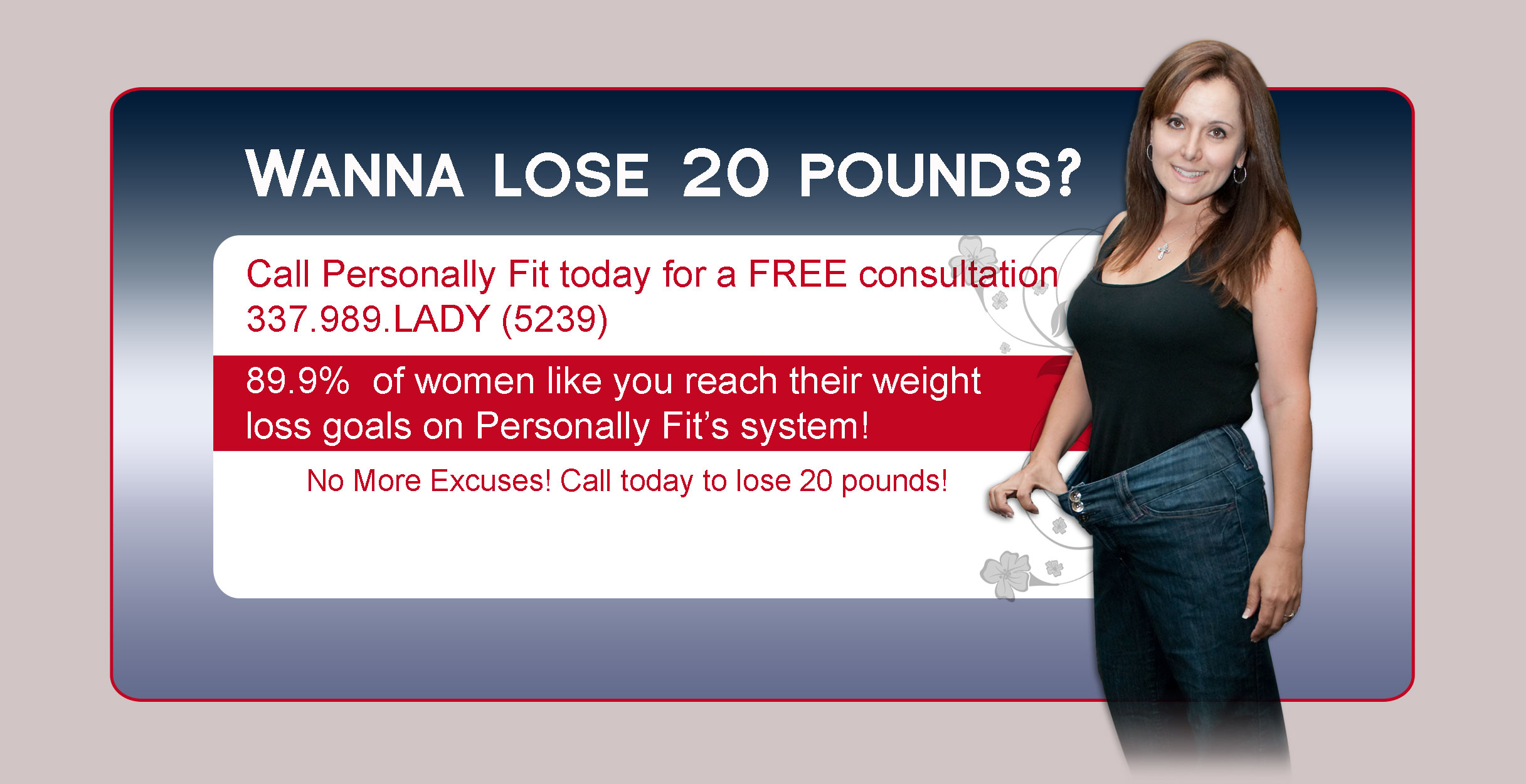 FUEL for Success
Wanna lose 20 pounds? Personally Fit's 12 week innovative nutrition and training strategies can help you achieve your goal. 89.9% of women like you lose 20 pounds on our program. This program has a four year track record of success. Call Personally Fit today for a FREE consultation! 337.989.LADY (5239)
Are you burning enough calories during excercise to reach your goals? Check out this excellent tool. ACE Physical Fitness Calorie Calculator
Success Stories
Rebecca Naquin is 26 pounds and 17 inches healthier!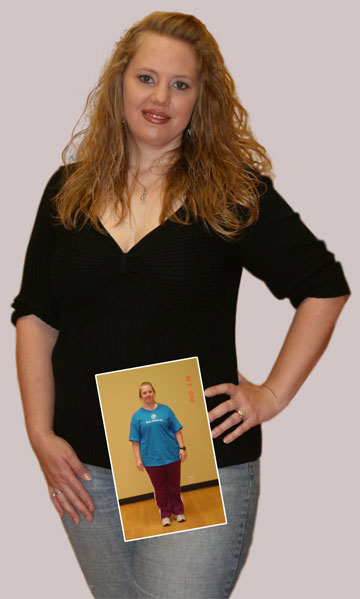 I have struggled with weight issues all of my life. Like most people, I struggle with finding time for that much needed workout each day and fighting with the urge of putting that very unhealthy bite of food in my mouth. I also have thyroid problems that, even while on correct medication, seems to slow weight loss down tremendously.
Back in 2000 I began jogging on a daily basis and eating healthy. Over a time period of approximately 2 years I lost 90 pounds. In 2006 my husband and I learned that we were going to be blessed with another baby. I jogged throughout my pregnancy in an effort to gain as little weight as possible. The day before I delivered I weighed in with a 30 pound weight gain, all of which I lost with the exception of 8 pounds. However, I made the mistake of becoming lazy. I did not get back into the gym. In fact, I cancelled my membership. Huge mistake as I no longer had the fellowship nor the support of the women that I had grown accustomed to working out with. I stopped jogging and I stopped watching what I ate. The pounds quickly began to pack on with a 50 pound weight gain. I found myself weighing 20 pounds heavier than I did when I was 9 months pregnant! WOW!
I was so disappointed in myself. I felt terrible all of the time and depression quickly set in. I found it hard to roll out of bed each morning, let alone do anything productive. With the weight gain came health issues and with the health issues came more depression, which in turn caused more weight gain. It felt like an endless cycle. I knew that something had to be done! Changes most certainly had to be made! That is when I found Personally Fit and made one of the best decisions of my life - to join their family. After three months of going to the gym religiously with absolutely no weight loss results, I decided to sign up for the FUEL program. This decision was a life changing one!
I learned my body and how it reacts to certain types of foods. I learned how and why certain foods fuel my body while others drain it. I learned which combination of foods should be eaten together to obtain better results and which foods should never be eaten alone. Throughout the FUEL program I learned who I am, what my body needs in order to obtain results, and what it takes to make things happen! I had much support from Dawn, the staff at Personally Fit, and the other women participating in the FUEL program with me. With that much support, how could I fail? The FUEL program taught me important, life altering information that I will carry with me throughout my life. I feel great and I am now a much healthier person! I can honestly say that FUEL has changed my life!
"Always take 10,000 steps a day and be mindful of what you put in your mouth"
Deborah Perrodin is 29 pounds and 31 inches healthier!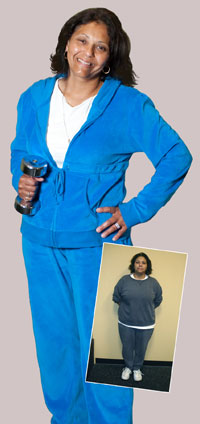 I didn't have a weight problem until after my hysterectomy. With complications I had six surgeries in one year and put on weight. In June 2009 my father had open heart surgery; the lives of my entire family changed. We all realized that we had a chance of having the same thing one day. I had to make some changes; I have a 16 year old son and I want to see him get married and have kids.
The FUEL program is just what I needed to lose weight and get healthier. I have learned so much about the foods that I need to eat for my body. My whole life has changed. I feel confident again; I have my old, active self back. People ask me what I am doing; I explain to them my eating habits and try to get them to exercise with me. I now have some of the ladies at work walking with me.
Find people that motivate you when you don't feel like eating healthy or exercising. I will never forget what I learned and will continue to try to motivate others to be healthier
"Find someone that motivates you."
Bobbie Mendez is 20 pounds and 21 inches healthier!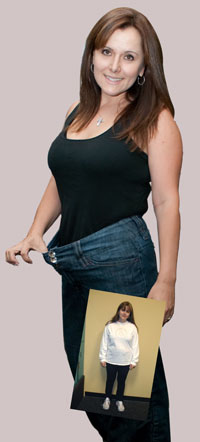 FUEL was the right program for me. I followed Dawn's directions, hanging on every word. "Don't let yourself get hungry, because when you are hungry you will make poor choices." For me, this statment was key. I began to eat more frequently, cutting out the "forbidden 5." I focused more on what I could eat, and not what I shouldn't. I started looking for healthy, nutrient rich foods per Dawn's advice and, I started finding them! Dark covered chocolate bananas, for example.
I am so grateful to the Personally Fit team. It was an awesome experience! I was challenged to change the way I view diet and nutrition and learned so much. I feel the program changed me. I am happy! I am stronger! I am physically able to do more. I don't spend precious time in my closet hunting for something that fits; instead I throw on anything and spend time with my family.
If you think you've tried everything and haven't had success, then you haven't tried the FUEL program! I will continue to workout and eat nutritious foods. I won't hide behind other people in pictures. I am thrilled with my results and love the way I look and feel!
"Keep a positive attitude and don't be defeated by bad habits. Take Control"
Kellee Charles is 14 pounds and 16 inches healthier!
My Journey started 2 years ago when I was at my all time heaviest of 311 pounds. Since that time I made exercise a part of my life. I had a slight set back when I injured my back last year and was unable to workout for a few months, but besides that I have been in the gym almost every day. So far I have lost 56 pounds - the weight of a small child!
The FUEL program really taught me a lot. Not just about what to eat, but I have learned a lot about myself and my capabilities. FUEL has showed me that I can reach my goals when most of the time I didn't believe I could. This program is a must if you really want to learn about food, nutrition and how your body reacts to certain foods. I now know how to balance my meals and which foods I can only eat in moderation.
Some people see me exercising and say "You work so hard!" "Well, I'm in a battle. A battle to become a happier and healthier me!"
"Never give up and always exercise at least 30 minutes a day!"
Teri Trahan is 9 pounds and 9 inches healthier!
After gaining 50 pounds over a 3 year period, I became frustrated because I couldn't understand why; I didn't overeat. I felt too young to be as tired as I was; I was finding it difficult to do simple things like bending down to pick up things. Everyday tasks just wore me out. When I began to notice slight increases in blood pressure, I became concerned. I wanted to be able to enjoy my kids and future grandkids, and knew I needed to get healthy for me and for them. I needed the knowledge that would help me create good eating and exercise habits that were realistic and would help me get the results.
I implemented healthier eating choices and worked out at Personally Fit during my lunch hour each day. After only 2 weeks, I had so much more energy and strength! I used to have to pay someone to cut my grass; now I can mow it all by myself. I am using that grass-cutting money to pay for my membership to Personally Fit
I would tell anybody considering joining the FUEL program to give it a try; at the very least, you'll gain some insight as to how what you are eating is affecting you, good or bad.
"Don't think "diet", think better decisions"